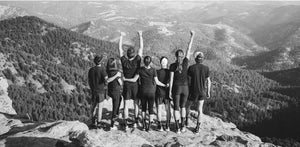 Jeremy Nelson
Founder
Jeremy is a product designer and avid athlete that studied Mechanical Engineering at CSU and Product Development at Stanford University. He strives to design exceptional products that improve the lives of others and grow ROLL Recovery into a name athletes love.
ADRIANA NELSON
Co-founder
Adriana is an accomplished elite distance runner, with a 2nd place finish at the 2007 Chicago Marathon, USA Half Marathon champion in 2013 and three times Olympic trials qualifier. She was named the female athlete of the year at The University of Texas at El Paso, UTEP, TX, where she also earned a B.Sc. degree in Kinesiology and minor in Psychology.
MATT HENSLEY
Vice President of Business Operations
Matt directs our business development and operations efforts to keep ROLL Recovery roll'n. He has a BA in Advertising and Masters in International Business at University of Florida. And on the running scene he's no slouch with a blazing 2:19 marathon time set at the 2014 Boston Marathon.
TRACY ANN ROESER
Brand Marketing Manager
Tracy brings years of experience in the industry to ROLL Recovery to direct our marketing efforts. She studied design at Savannah College of Art and Design and is an avid athlete and runner.
SEAN DAUGHERTY
Sales Support
Sean manages ROLL Recovery's retail partnerships and events. He has a BA in Marketing from CU Boulder and was a professional triathlete for 7 years. He still competes in 5k-marathon distance from time to time.
LINDSAY MAIER
Digital Engagement & Growth Marketing Manager

Lindsay brings years of experience in digital media, PR and marketing to ROLL Recovery to lead our digital engagement & growth marketing efforts. She studied English at Gettysburg College where she was also on the Women's Tennis team.
ANDREW KITTO
Multimedia Specialist
Andrew is ROLL Recovery's Multimedia Designer, focusing on photography and videography. He ran primarily the 800 meters at Michigan State University.
AKIS MEDRANO
General Operations and Customer Experience
Akis Medrano is an elite distance runner with a degree in Criminology. He's the backbone of our day-to-day operations and customer experience.